Produtos Erlan Ltda.
Hall: Shk Rashid Hall Stand: R-R15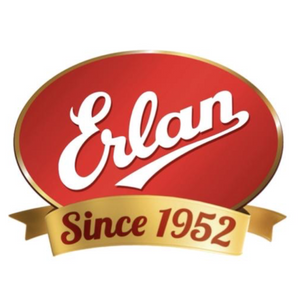 Erlan, located in Uberlândia, Minas Gerais, Brazil, began in the 1930s, still under the name Cometa, producing its first candies in an artisanal manner. In 1952, it formalized as Erlan Products, aiming to industrialize and market candies and caramels, and later started producing bonbons, chocolate bars, and Easter eggs. Today, the company boasts a modern factory and is in a new phase of growth due to the continuous expansion into new markets. It is an environmentally conscious company, equipped with an efficient effluent treatment station, where all the water used in the company is treated, tested, and returned to the public network without causing harm to nature. The company employs over 500 direct and 1500 indirect collaborators, serving all of Brazil and dozens of countries worldwide. Its mission is "To offer foods that can transform people's lives into a delightful emotion, building incredible relationships with our employees, customers, and partners, generating consistent and sustainable results for society as a whole, bringing much more flavor to the world." And so, it continues to distribute all its products, spreading "DELIGHTFUL EMOTIONS" across all continents.
Address
Produtos Erlan S/A ; Endereço. Rodovia Br-452, S/N, Distrito Industrial - Km: 123, Anel Viario; : Ayrton Senna; Uberlândia/MG -BRAZIL CEP 38402-343
Brazil