Delicacies in Dubai: Vegan pastries, coconut cheese and analogs with natural aromas trend at Gulfood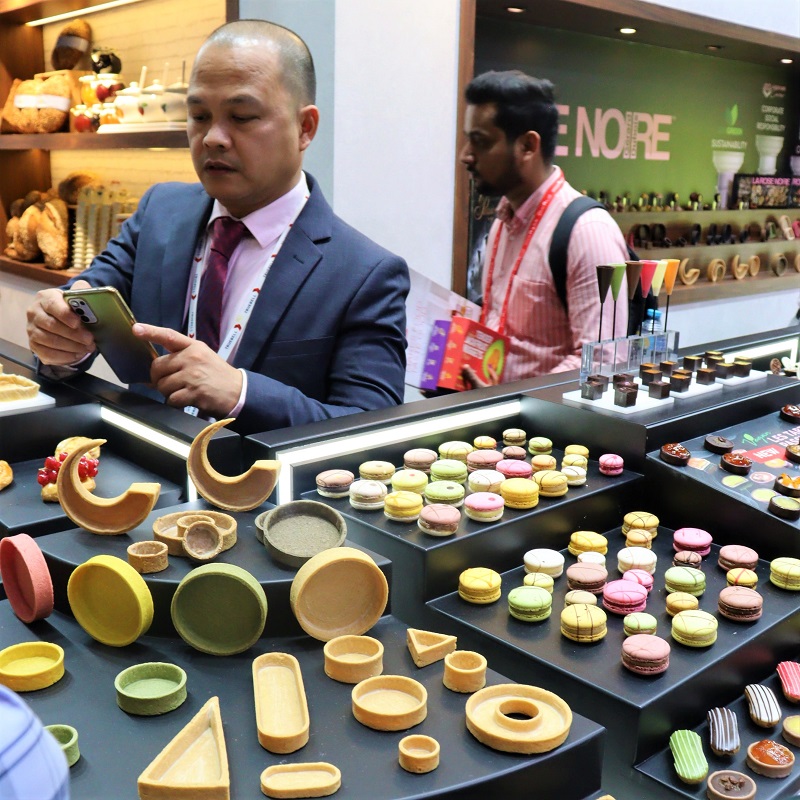 On the show floor at Gulfood 2023, FoodIngredientsFirst is exploring the latest plant-based innovations. We speak with La Rose Noire, a chain of Swiss bakeries, presenting its lineup of bakery items, and Austria-based PLNT, who are tapping into the demand for natural aromas in meat and fish analogs. Meanwhile, coconut is trending as a key ingredient for plant-based cheese, according to German brand Jermi Käseria.
Michael Sevillano, sales executive at La Rose Noire, discusses the full range of items that the company is exhibiting. "We have our pastries, tart shells and ready-made desserts, which are all vegan. We also have vegan and gluten-free tart shells made as part of our chocolate creations as we use dark chocolate."
The company is launching its line of tart shells this year as it continues to cater to vegan consumers.
"There can be difficulty in creating a full lineup of vegan-friendly products, but the demand is definitely there," says Sevillano.
So far, the company's products are available in 58 countries and Sevillano wants to see La Rose Noire products in every continent as they expand to even more global markets.
Natural aromas for plant-based analogs
Matthias Nieuwkoop is on the stand at PLNT and says the company is taking on "a natural approach with its products," and thinks a holistic mindset is driving the brand to consumers.
"We use single ingredients, which are often outsourced, so our innovations are all-natural, they contain natural aromas using herbs and spices. We are in charge of our food process, R&D innovation and we make our own recipes."
According to Nieuwkoop, this allows "full control over the products that we make, we're very much in charge of the whole development and production process."
"Different blends of spices allow for a certain flavor experience right now. However, creating an alternative fish product that uses natural fish aromas can be very challenging," he claims, adding that the company uses nori or algae to find a good flavor match.
"With these ingredients, consumers will recognize that it's a taste that comes from the ocean, but without the typical fishy salmon flavour."
Tapping into health and sustainability

PLNT's parent company, Jan Zandbergen Group, started as a small butcher in the 1950s in Leiden, the Netherlands. "With the founding of Future Food Group, we want to contribute to a new world with innovative, plant-based successors to meat and fish," notes Nieuwkoop.
Matthias Nieuwkoop on the stand at PLNT, says the company is taking on "a natural approach with its products."
"We currently have around 200 products, not all of which are available to buy online, but we are on a continuous learning journey with our products," he outlines, adding that last year the company rebranded itself. "We want to distinguish ourselves regarding health and sustainability."
PLNT uses soy in its products, which are grown in Austria while incorporating peas and wheat. They generate their own energy from sustainable resources and don't use any solvents to extract the protein.
Nieuwkoop also says they "use gravity" to extract natural flavors, giving the products a lower sodium profile and fewer chemical processes.